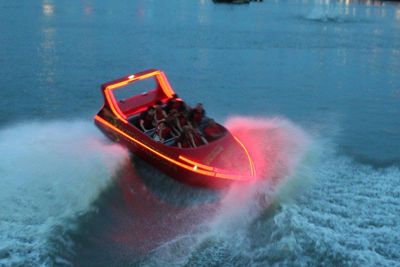 How much is it?
It is $19.95 for Adults and $16.95 for kids under 12.
What are your hours of operation?
We open 7 days a week during the season as the same hours as Broadway at the Beach.
Do you have any age limit?
Anyone three years old and up can ride.
Do you have weight limit?
No, we don't. Riders should be able to get in and out of the boat by themselves.
Do I need reservation?
No, you don't need a reservation.
How many people can ride at one time?
The boat can fit 11 riders at the time.
How long is the ride?
We do two laps around Broadway Lake performing high speed maneuvers like 360's, 180's and fish tails.